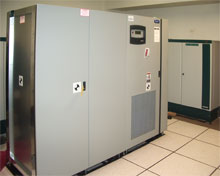 Raised Floor installation of Liebert Npower 100KVA
Raised floor installation of large UPS and Battery Systems require a wide range of field experience for a smooth installation. These two photos outline installation of a Liebert Npower 80KVA UPS on a raised floor.
TCS engineering has years of experience in installation of large UPS and Generator sets. TCS was awarded the contract based on ability to perform as a single vendor for this site by the end user for inside delivery, set in place and electrical installation.